Have you noticed that digital marketing agencies are sprouting everywhere across India nowadays?
If you ask me, it's a sign of positive development. To match this demand, best digital marketing training institutes in Chennai are also becoming prominent.
Why?
Because it empowers people like me to pursue promising careers in digital marketing. Digital marketing training institutes push the envelope in terms of digital potential. It's where the bright minds of the field are forged!
Chennai is no exception to this trend. The city has always been industrial in its vibe, and digital marketing is a perfect avenue to explore here.
The field of digital marketing training courses has grown to the point where digital marketing training is also a lucrative avenue nowadays!
How did learning the ropes of digital marketing become such a popular choice in Chennai city?
The Digital Demand
The answer to the question above can be found within the workings of our digital marketing institute, Digital Scholar.
Does the name ring a bell?
Well, here are a few quick pointers from us at Digital Scholar, to get you up to speed.
– We're India's first Agency-style Learning Digital Marketing Training Institute. This approach is not just our claim to fame, but also a game-changer for every Digital Scholar!
– Recently, we also launched our course online with Digital Scholar Online, garnering massive response and feedback in the process.
– Our 3-month flagship course is entirely geared to provide a holistic curriculum and cover all the bases of contemporary digital marketing. From content marketing to affiliate leads, our program has it all!
– Learning at Digital Scholar isn't just about spending hours and hours in the classrooms. Thanks to dedicated doubt-clearing sessions, guest lectures and placement training, Digital Scholar alumni are fully prepared to chase a promising career in digital marketing beyond their wildest dreams.
That covers the gist of what makes Digital Scholar an excellent digital marketing training institute in Chennai. You don't have to take our word for it, though. Want more hard facts to support the claim?
We've compiled a list of ten comprehensive tips to help you refine your search for a Chennai digital marketing training course. At the end of the list, we guarantee you'll be all set to choose the ideal path and be well on your way to digital success! 
Read on to find out the ten factors you have to consider before you look for a course that is suited to your interests!
Top 10 factors to choose rigth digital marketing training institutes in Chennai
1. Scope Out The Course Profiles.
Chennai is a city that's all about value for money. Why should digital marketing training be any different? Every digital marketing institute in the town makes a clear proposition regarding its portfolio of services and courses to the public.
At Digital Scholar, for instance, we currently offer our flagship 3-month digital marketing training course, catering to all types of digital marketing careers. Give the institute a call and do your homework!
2. Take A Look At The In-House Faculty.
Chennai has its fair share of famous digital marketers. From our very own founder Sorav Jain to other agencies like Zuan and Ad Club Madras, a quick Google search is enough to loop you into the who's who of Chennai.
The faculty you have access to will significantly shape the way you learn digital marketing at a particular institute. If you can, try to get in touch with them and see how they operate and discuss digital marketing!
3. Request A Demo Class.
This feature is common nowadays across all digital marketing training courses in Chennai city. Since digital marketing training courses are relatively long-term commitments, you'll need a quality-assurance metric.
To deliver on this front, most reputed academies conduct demo sessions periodically for prospective students. Typically, these demo sessions are free of charge, at least in Chennai.
We at Digital Scholar offer demo sessions (pandemic conditions notwithstanding) upon request. Get in touch with us today!
4. Ask The Alumni.
What better source of first-hand information than the direct beneficiaries themselves?
At Digital Scholar, we take great pride in creating talented digital marketers batch after batch. The advantage of asking alumni of a particular institute about the nature of coaching is the honesty involved.
Nothing will be sugarcoated, so it helps institutes like ours maintain an honest reputation and track record! So if you're on the lookout for digital marketing training institutes in Chennai, make sure you ask around with its former students.
5. Placement Training Analysis.
Chennai is a city with booming opportunities for employment across all sectors. Thanks to the immense potential in digital marketing, Chennaiites (especially the youth) are flocking to it as a viable career option.
There are plenty of avenues to branch out into after completing a digital course. Placement training helps hone that sense of what career you want to chase after completing the course.
Digital Scholar offers dedicated placement training. We train you from start to finish, helping you land your dream career in digital marketing. Every little bit counts, from resume drafting to the final interview itself!
6. Curriculum In Focus.
Since Chennai's students are so street smart, they always keep their best interests in mind before signing up for any course. We understand this fully, and that's why our pamphlets take an in-depth approach to the course curriculum.
Most digital marketing training institutes in Chennai offer highly specialised courses to prospective students. All the more reason to provide an insider perspective regarding the curriculum.
We take great care at Digital Scholar to ensure that our prospectus and curriculum are 100% transparent. What you see is what you get!
7. Social Media Connect.
Every reputed digital training institute in Chennai has a website up and running. But they don't stop just there!
They also regularly update their social media handles across different platforms. After all, they need to stay connected to their target audience: young students and entrepreneurs!
Therefore, going on your social media and getting in touch with your institute of interest is always beneficial. You can even contact the institute over DM and get any doubts clarified, whether it regards the curriculum or life at the institute.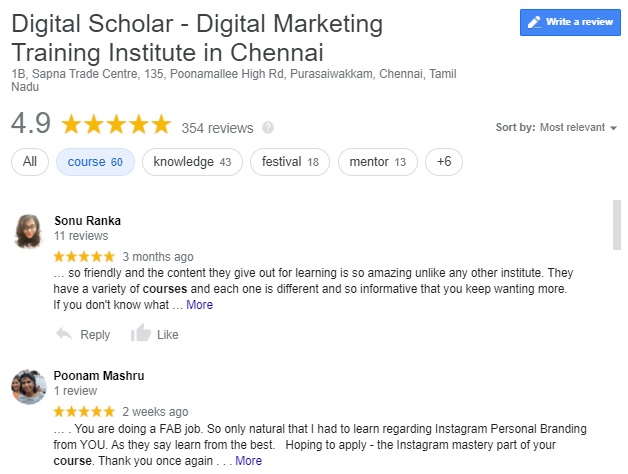 If a digital marketing institute doesn't maintain a social media presence, that's a possible red flag. Digital Scholar is active on all popular social media platforms. We're always available if you want to reach out to us, no matter the avenue!
8. Extracurricular Analysis.
Nowadays, diversification is the name of the game. Nobody likes to be stuck in a classroom staring a the board all day, do they?
We agree. That's why our curriculum at Digital Scholar is geared towards activities beyond just the staple classroom experience. There's so much more scope to learn from holistic methods such as guest lectures and industrial visits, mainly in Chennai. We at Digital Scholar believe in 360-degree development of student skills.
We leave no stone unturned in guaranteeing hands-on education through our digital marketing training course. When you enquire about a course, make sure that you touch upon this topic as well. After all, it's in your best interests to ensure you get the maximum value out of the course you sign up!
9. Online Facilities.
No, we don't just mean the LMS and other tracking software. Chennai is one of the worst-affected cities by the COVID-19 pandemic in India. Therefore, digital marketing institutes must make provisions for the students to continue their coursework in a hassle-free manner.
In that regard, Digital Scholar recently launched its 100% online course, keeping in mind the current circumstances. Most other institutes in Chennai have followed suit, capitalising on the wave of online content. Since every student in Chennai is relying on online Zoom classes to get through their studies, you must enquire about this facility as well.
Under normal circumstances, which mode of instruction you sign up for is a matter of convenience. Right now, however, things have changed, so plan accordingly!
10. Certifications.
A digital marketer is known by the certifications he or she has. Of late, digital marketers in Chennai have shown interest in global certifications of their field.
Be it from Google or Facebook; every credential counts in an area as competitive as digital marketing. We've got you covered on that front because Digital Scholar offers a dozen certificates as part of our flagship course.
These certificates come from reputed global organisations such as Google, and you'll also be getting our institute's certification as part of the package!
So make sure you do your homework before applying to any of these digital marketing training courses. The value of a class is about the laurels it can bring to your resume and portfolio, right?
Choosing The Right Digital Marketing Training Institute
The ten points listed above should give you a rough idea of what to look for as an aspiring digital marketer in Chennai. In the interest of being impartial, we recommend that you follow your instincts.
We do hope that you end up choosing Digital Scholar, as it is our steadfast belief that we offer the complete digital marketing package.