Choosing a best digital marketing agency in Chennai for your brand is like entering into a long term relationship.
You want it to be just right, perfect, and something that lasts forever.
But with the market filled with so many agencies, freelancers, individuals claiming to be agencies, and so much more, it is hard to pick just the right kind of agency that will help you grow.
Even if you look for a best digital marketing agency in Chennai, the options are endless. With a digital wave sweeping across the nation in the last decade, Chennai is one of the many digital hubs of the country.
Top 10 Tips To Choose The Best Digital Marketing Agency in Chennai
So let's take a quick look as to what to look for in an agency, what to avoid, and few agencies in Chennai.
1. Client Portfolio
A quick search on the agency's website can easily bring up the top client list the agency has worked with. These are the clients with whom they have had their best work.
But don't just stop there, there is a lot more you might be overlooking.
Check for the entire client list, both big and small. One way to find is by going through the agency's social media.
Look for the brands they follow or the ones that follow them. Identify them, and go through their account.
Check their content, the engagement, all the necessary numbers, and every other thing that matters. This will give you a fair idea about the approach of that agency.
Apart from their social media, check the SEO performance of the past clients, and see where they stand in their niche.
This will also give you an overview of their ability to get brand visibility on the Internet.
2. Team Composition
With the digital boom in the last decade, the industry has seen many marketers practising digital on their own, or starting their own agency.
While on the lookout for agencies, you will see many individuals who are ready to do everything from social media, creating a blog, ads, designing, etc. while it may be an affordable option, the quality is sure to be compromised in one aspect or the other.
So instead of going for individual agencies, go for the ones with specialized teams.
Agencies with dedicated teams for designing, ads, social media marketing, SEO, content writing, etc. will ensure each aspect of your brand is taken care of professionally.
This can easily be checked on the agencies website. An agency with a great team will always mention that on their profile.
Yet another way to check is by going through their LinkedIn profile and looking at the company page.
3. Online Presence of the Agency
For an agency that has the job of managing and promoting the online visibility of other brands, their own presence should speak volumes.
See the platforms they have their presence in. Check for LinkedIn, Instagram, Facebook, Google My Business, and Quora.
Once you have the list, check for their engagement and the type of content they produce. Are they providing value?
Do they rank well on the SEO scale?
Are they promoting themselves well enough for people to invest in them?
The answer to these questions will help you make a very calculated decision.
This will also reflect the kind of presence you might have for your brands to some extent. So checking their online presence is always handy.
4. Social Proofing and Reviews
This is one of the most important factors while choosing between agencies. Feedback and reviews can be in any form and can be found anywhere.
Some of the positive reviews from the best past clients can be found on the agency's website and social media.
Dig a little deeper to find genuine reviews.
Google them online and see if anyone has anything to say about the agency.
Check their Google My Business for online reviews, check if any brand has tweeted about their service, written a post about them on LinkedIn or tagged them in any post.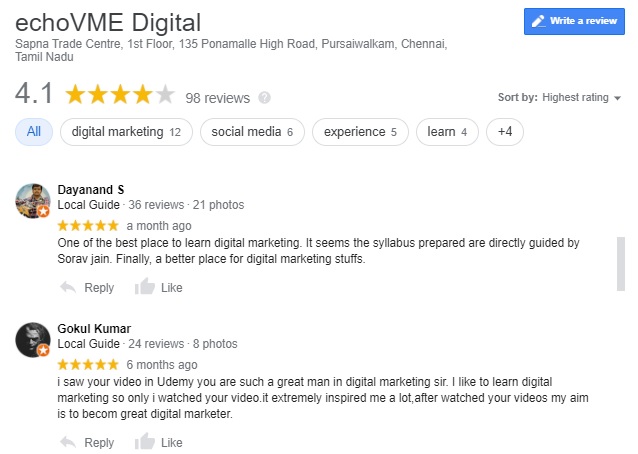 For a positive note, also check if they are featured in any form of print or digital media. This will show you how other brands and the public see the agency.
5. Vision and Mission
An agencies vision and mission speaks a lot about their approach. If you are planning to hire an agency on a long-term basis, this is an important metric to look for.
This will usually be available on their website, or the agency mentions it while pitching it to you.
The vision mentions about their end result with their client, and the mission speaks about the path they take to achieve it.
The whole point of this is to know about the agency's core values and the kind of work culture they follow.
And if they match with your organization's culture, you can be sure that the long-term journey will be smooth.
6. The Website
Just like how the face is the index of the mind, a website can give you great insight into the agency.
It can give you all the information needed for you to make an informed decision.
A website can tell you about the agency, its history, the different services they provide, their clients, the tools they use, their team, their contact and location details, their blog, and many more things.
Go through it thoroughly, and get to know everything that is relevant for your brand.
Apart from these things, check how optimized is the agency website, does it appear on the top of the search results, does it have a decent loading time, is it designed well and if it's easy to use.
The answer to all these questions can tell you a lot about the agency you are planning to invest in.
Yet another interesting thing is to watch out for their blogs. Check if they have a blog section on their website, and see the type of content they are talking about.
This will give you a fair idea about their expertise in the subject.
Example: echovme.in/blog
7. The Availability
A good agency makes sure the process of clients to get in touch with them is smoother. If they are playing hard to get, it's a red flag that you might want to consider.
They will not have multiple layers just to eventually get in touch with their concerned department/individual.
Agencies will have their contact information on their website, social media, and many other places.
But more often than not, the call won't go through, there might be a major delay in reverting, or your call will be bounced to multiple individuals till you finally make an appointment.
So if you're stuck in a maze, considering other options is the best choice.
8. The Pitch and their Claims
After doing a lot of your own research, in the end, take into account what they have to say regarding themselves.
Their pitch tells you exactly about your requirements, what they plan to do to meet your demands, and their claims to give you a certain target over the period of time.
A pitch can tell you how much the agency is serious about acquiring you.
This can be known by the amount of research they have done on you, their knowledge about you, your requirements, and the digital space, and their promises to meet your expectations in a particular amount of time.
9. Their Terms and Conditions
Right from beginning to take control of your brand, to the ongoing process, to the forfeiting formalities, different agencies have different terms and condition.
Many agencies have a minimum term for which they want to take control of the brand; some have their own policies about taking over the social media accounts, while some work on guaranteed results, some give you a fair estimate.
Understand and equip yourself with all that is there for a client to know; after all, it is your brand that is at stake. And if there is any contingency that arises in the future, it is your online presence that might be affected. So check them well.
10. Their Service
In the end, once everything goes well in the initial stage, undergo their service for a few months. See the type of process they have in place for relaying information, getting approvals, and making payments.
See how transparent they are and if they are, in fact, able to work on the promises and claims made by them. Nothing else can give you a fair view than the service itself.
Have arrangements in prior to for the limited period notice period, and quit if they don't meet your requirements.
Conclusion
It's always hard to make a choice when the options are endless. With a growing market in the city, the digital marketing agencies in Chennai are levelling up their game to be the best. So make a checklist of your requirements, make sure the above-mentioned points are taken care of, and choose the best agency to grow your brand.
Check the list of 700+ best digital marketing agencies in India